Pablo Palazuelo, works on sale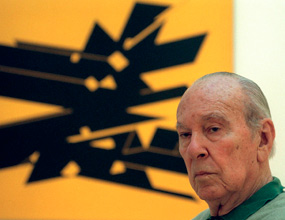 Pablo Palazuelo
Madrid, 1916
Pablo Palazuelo (Madrid, 1916 - Galapagar, 2007) was a Spanish painter and sculptor. The artist studied architecture in Madrid and at the Royal Institute of British Architects in Oxford. Since 1939 he devoted himself exclusively to painting. After doing some Neo-Cubist works, he became interested in the work of Paul Klee, which profoundly influenced him.
In 1948 he settled in the Spanish Pavilion of the University City of Paris, with a scholarship from the French Institute, where he coincided with the Basque sculptor Eduardo Chillida. Together they met Bernard Dorival, curator of the National Museum of Modern Art where Palazuelo was taking a lithography course. In 1954 he began to develop a sculptural facet that reached its peak in the 1970s.
Over time, his geometry became more dynamic and flexible, and his rhythm became faster: the fragmentation produced on the surface generates a whole grid of straight and broken lines and a structure of crystallizations arises. He was awarded the Gold Medal for Fine Arts in 1982. In 2004 he received the Velázquez Prize from the Spanish Ministry of Culture.
Artist's works