Artwork by Borja Barrajón, Disposición Lineal (2022)
Disposición Lineal, 2022
€3,150.00
Alabastro azul
21 x 24 x 20 cm
Request more info about this piece
Delivery term:
Certificate of authenticate: Signed by the gallery seller
Purchasing process: 100% security
This artwork is available and will be delivered after the confirmation of your order. The transport includes the insurance for the value of the piece with full coverage of any incident.
You can pay by credit card, debit card or bank transference. The payment is completely secure and confidential, all the purchasing processes in Art Madrid MARKET are protected by a security protocol under an encrypted SSL certificate and 3DSecure by Visa and MasterCard.
You have 14 days to find the perfect place for your artwork. If you change your mind, you can return it and we will reimburse the price you paid. You will only have to bear the shipping costs of the return.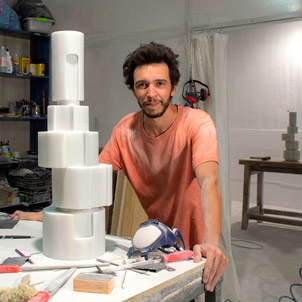 Madrid, 1985
Borja Barrajón Acedo (Madrid, 1985). He began his training as a sculptor at the faculty of Fine Arts in Madrid in 2006. From the beginning it was clear to him that stone would be the main material with which he would shape his work.
During his first years he acquires the technical knowledge required to work with this material, either through his teachers, his participation in symposiums or through the personal experience that the work itself gives him in the realization of each sculpture, reaching a great mastery over the material and whose result we can see reflected in his most current work.
Despite his youth, he has twice been awarded the first prize for sculpture Manuel Martínez Bragagnolo 2009 and 2011, Acquisition Prize by the Complutense University of Madrid 2011 and first prize in the circuit of young artists 2013. Currently, his work is also part of different collections, museums and city councils.