Borja Barrajón, works on sale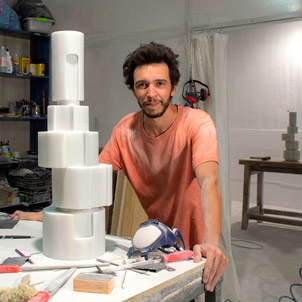 Borja Barrajón
Madrid, 1985
Borja Barrajón Acedo (Madrid, 1985). He began his training as a sculptor at the faculty of Fine Arts in Madrid in 2006. From the beginning it was clear to him that stone would be the main material with which he would shape his work.
During his first years he acquires the technical knowledge required to work with this material, either through his teachers, his participation in symposiums or through the personal experience that the work itself gives him in the realization of each sculpture, reaching a great mastery over the material and whose result we can see reflected in his most current work.
Despite his youth, he has twice been awarded the first prize for sculpture Manuel Martínez Bragagnolo 2009 and 2011, Acquisition Prize by the Complutense University of Madrid 2011 and first prize in the circuit of young artists 2013. Currently, his work is also part of different collections, museums and city councils.