Artwork by Isabela Puga, M_MS_04 (2021)
M_MS_04, 2021
€850.00
Técnica mixta y oro de 22kt sobre madera
25 x 35 x 4 cm
Request more info about this piece
Delivery term:
Certificate of authenticate: Signed by the gallery seller
Purchasing process: 100% security
This artwork is available and will be delivered after the confirmation of your order. The transport includes the insurance for the value of the piece with full coverage of any incident.
You can pay by credit card, debit card or bank transference. The payment is completely secure and confidential, all the purchasing processes in Art Madrid MARKET are protected by a security protocol under an encrypted SSL certificate and 3DSecure by Visa and MasterCard.
You have 14 days to find the perfect place for your artwork. If you change your mind, you can return it and we will reimburse the price you paid. You will only have to bear the shipping costs of the return.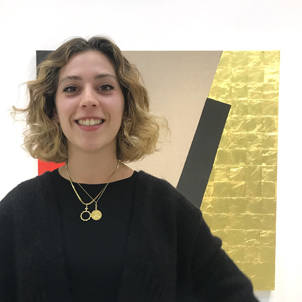 Caracas, 1997
Isabela Puga lives and works in Madrid. Graduated in Fine Arts at the University of Barcelona with honorable mention in the Final Degree Project: Cracks in space; she starts her pictorial research process through the material and its perception. The black color fields and gold leaf surfaces are established as the main and recognizable materials of her work. Later she moved to Madrid, where she studied a Master's degree in Art Market and Business Management and continued the development of her artistic work. During this last stage her interest in architecture and urbanism increased, being both disciplines an important part of her creative process and leading her work towards a geometric style. From opposites: the brightness of gold and the darkness of black, the artist questions and investigates in her work basic elements such as depth, color, light and space, being her intention to promote the relationship between subject-object-space. That is to say, the work necessarily requires a viewer to observe it and explore its perspectives and superimpositions of plans, revisiting a more elemental/minimalist language. Thus, Isabela Puga's pieces result in an analytical and "presentational" work, where the concepts of spatiality and contemplation are simultaneously exposed.