Artwork by Richard García, Metrópolis salvaje (2022)
Metrópolis salvaje, 2022
€7,260.00
Grafito, acrílico, spray y aerógrafo sobre tabla.
130 x 180 cm
Request more info about this piece
Delivery term:
Certificate of authenticate: Signed by the gallery seller
Purchasing process: 100% security
This artwork is available and will be delivered after the confirmation of your order. The transport includes the insurance for the value of the piece with full coverage of any incident.
You can pay by credit card, debit card or bank transference. The payment is completely secure and confidential, all the purchasing processes in Art Madrid MARKET are protected by a security protocol under an encrypted SSL certificate and 3DSecure by Visa and MasterCard.
You have 14 days to find the perfect place for your artwork. If you change your mind, you can return it and we will reimburse the price you paid. You will only have to bear the shipping costs of the return.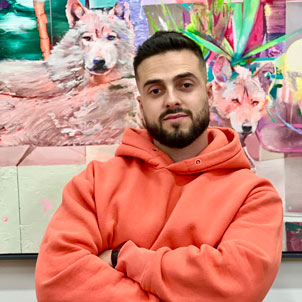 Madrid, 1995
Richard García (Madrid, 1995) is graduated in Fine Arts at the Complutense University of Madrid in 2017. After this apprenticeship, he began his path as an artist, winning numerous competitions and beginning to develop his own style and discourse. The creative process is one of the most important parts of his work, in which he allows himself to be led by intuition through which he reflects superimposition and transparency.
In this way, he distorts reality to create images in which he shows us a decomposed and distorted world marked by a succession of superimposed images. Heavily influenced by urban art and with a creative process guided by intuition and chance, the artist from Madrid includes us on his way home in which he points out the contrast between the big city and the nature that surrounds him. Thus, he presents us with works loaded with information and matter where superimposition, transparencies and reflections make up these urban scenarios.
Richard García's works