Artwork by Montserrat Casacuberta, Mimosas y azules (2002)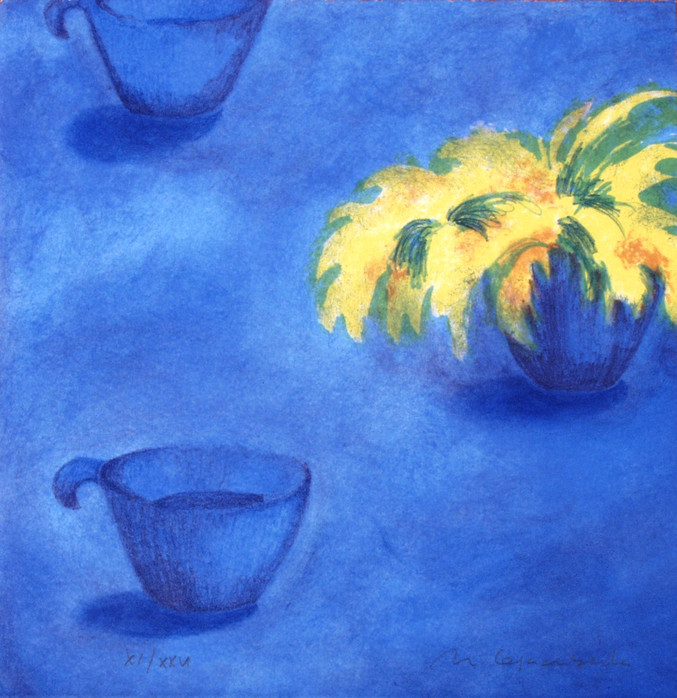 Mimosas y azules, 2002
€125.00
Lithography
29 x 28 cm
Request more info about this piece
Delivery term:
Certificate of authenticate: Signed by the gallery seller
Purchasing process: 100% security
This artwork is available and will be delivered after the confirmation of your order. The transport includes the insurance for the value of the piece with full coverage of any incident.
You can pay by credit card, debit card or bank transference. The payment is completely secure and confidential, all the purchasing processes in Art Madrid MARKET are protected by a security protocol under an encrypted SSL certificate and 3DSecure by Visa and MasterCard.
You have 14 days to find the perfect place for your artwork. If you change your mind, you can return it and we will reimburse the price you paid. You will only have to bear the shipping costs of the return.

Barcelona, 1959
Montserrat Casacuberta began her pictorial career very young, attending O. Kurtz's workshop and participating with her artworks in different competitions. In 1978, she entered the studio of G. Muñoz and J.M. Pinto and 1980 he entered the Faculty of Fine Arts in Barcelona, graduating in the specialty of painting, in 1984. Since then, and in parallel with his pictorial activity, he has taught at the Escola Lavínia (1984-86), IADE (1987- 1990) and BAU Center Universitari de Disseny de Barcelona (from 1996 to the present).
Casacuberta exhibits periodically in different galleries in Spain and she makes paintings for public spaces sporadically. Her most ambitious project in this sense is the painting of the Sant Joan Despí AVE viaduct, in 2015.
Montserrat Casacuberta's works